Heritage, visit, Religious heritage dans l'Eure
Add to my travel notebook
Register your touristic spot dans l'Eure it's free (in French)
See accommodation nearby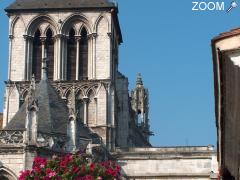 TVORG-3968
Update informations
Disponibilités
Office de Tourisme des Portes de l'Eure
36 rue Carnot
27200 Vernon (Eure)
Phone : 02 32 51 39 60
- Fax : 02 32 51 86 55
This history of what will become Our Lady Collegiate Church begins with a siege ( in 1047 or 1048) during which a chapel situated near the city walls was destroyed. William, Lord of Vernon built it up again while enlarging it, so that in 1092 construction work was advanced enough for the church to be dedicated to the "Mother of God" by Gilbert, Bishop of Evreux..
From this period still remains the Romanesque choir. Unfortunately, in the 18th century, the very early Gothic ambulatory was destroyed - it was one of the earliest in Normandy and hence in France, since Gothic architecture seems to have been born in England before passing over to Normandy and finally to Ile de France where it was to achieve the success that we all know.
At the beginning of the XIIIth century the two-storey tower lantern was erected. It still exists but it is difficult to see (except its East side) as it is partially hidden from view by the high nave, built much later.
Register your touristic spot dans l'Eure it's free (in French)