Accommodation, Self catering dans l'Orne
Add to my travel notebook
Register your touristic spot dans l'Orne it's free (in French)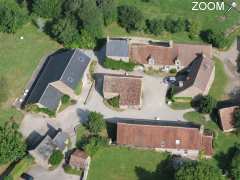 TVORG-783581
Update informations




Disponibilités
Calleja Pierre
La Fouquière
61320 Carrouges (Orne)
Phone : 06 23 60 77 13
- Mobile phone : 06 23 60 77 13

http://www.lafouquiere.fr

Le Hameau de La Fouquière
Le Hameau de la Fouquière nestled deep in the Normandy welcomes you in its 6 houses grouped around a large reception room.
These gites from 2 to 30 people have kept the authentic charm combined with modern comfort.

You want a cabin in Canada without flying and without going to canada ! we offer a unique lodging a room just for you in a bright atmosphere with candles and a terrace above the water for sunbathing quiet ... The cabin is for you : unusual, cozy for leave with many happy memories of waking in the middle of nature sounds.
You do not have to take the plane, but the boat to get to it !

The heated pool 9m x 4.5m is available with a terrace for cocktails and swimming.

The little roads environment, forests, meadows and orchards invites you to explore on foot or mountain bike.
The proximity of Bagnoles de l'orne makes you enjoy the casino, cinema, many gourmet restaurants.
In the neighborhood you'll have to go to meet cider producers, calvados and cheese (and taste their products !)

A stay at the Hameau de la Fouquière fill your head with memories of laughter, friendship and real ones.
Come join us, we are waiting for you !!
Register your touristic spot dans l'Orne it's free (in French)