Accommodation, Self catering dans le Calvados
Add to my travel notebook
Register your touristic spot dans le Calvados it's free (in French)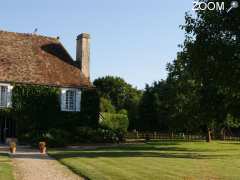 TVORG-759221
Update informations
Low season of 510€ to 595€

Average season of 640€ to 720€

High season of 1040€ to 1120€

Breakfast of 6 to 10 €

Restaurant Menu of 24 to 38 €

Restaurant Menu Child of 7 to 13 €



Disponibilités
Anne-Véronique KORNICKER
Manoir de La Pataudière 3 Route de Thury-Harcourt 14420 Villers-Canivet
14420 Villers-Canivet (Calvados)
Phone : + 33 (0)2 31 20 22 57
- Mobile phone : + 33 (0)6 80 84 73 61

http://www.abknormandie.com
The Manor of Pataudiere, remains of XVII and XVIII th centuries, offers you a charming stay in an authentic, comfortable and relaxing setting. Owners wanted to make this place of character a charm place, one of these few mansions that turns out your break or your holiday into an exceptional stay. It is good to relax with your partner, your family or your friends in this haven of peace.
Services: Wifi, table d ' hôtes, hosts trays, breakfast, picnic baskets, massages, beauty treatments, shopping, babysitting, garden, playground, indoor play area, local products boutique, tasting sessions...
Between Pays de Falaise and Suisse Normande, the property is ideally situated for exploring the historic and cultural attractions of the region (Château de Falaise, sites of the 2nd World War, museums...), sports (horseback riding, canoeing, fishing...) and leisure activities (miniature train, amusement parks, Aquatic Center...).
Register your touristic spot dans le Calvados it's free (in French)